Our most comfortable chesterfield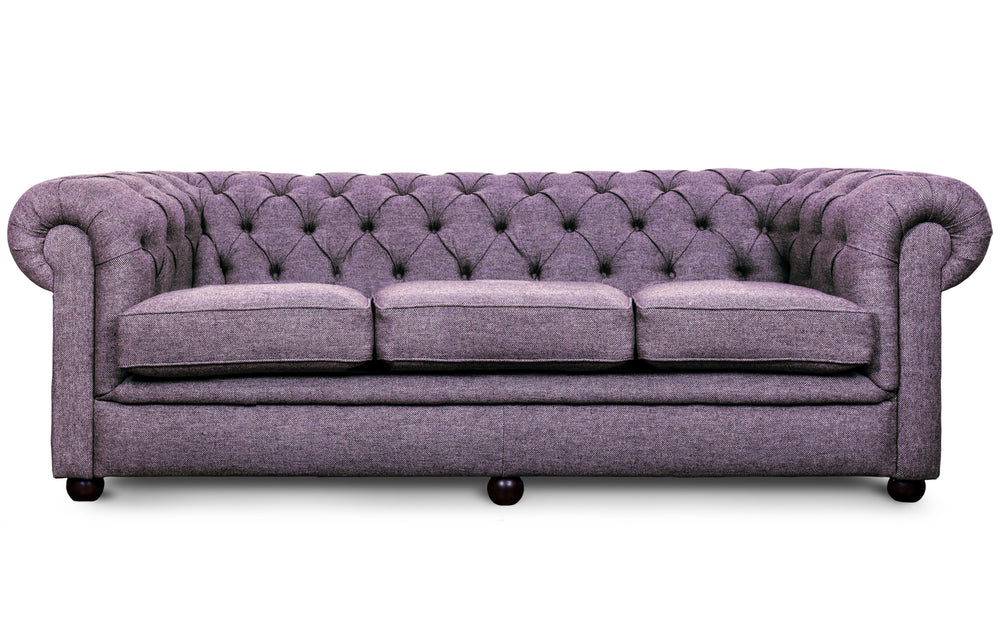 Cozy Autumn Offers - up to £500 off
Huxley 4 seater Chesterfield in Amethyst Herringbone wool
A true softie with a heart of pure gold, it's our pleasure to introduce the most comfortable of the S.W. James selection – Huxley. A little on the paunchy side, and no stranger to a pint of barley pop, Huxley is always ready to shrug off the day's stresses and relax.
The most comfortable Chesterfield you will find - Huxley is bolstered with a super sprung base. Working together with the frame, the sprung base provides supreme comfort as well as support.
**Brand new** - Meet Oakley, the oversized and opulent brother of Huxley — and by far our biggest Chesterfield yet. With a seat that's 20% deeper than our standard Huxley. Learn more.
Dimensions: 240cm wide x 97cm deep x 76cm high

We offer a variety of ways to purchase an S.W. James.
Our Deposit Plan is very popular - Click for more information
Introducing S.W. James:
An Introduction to Huxley:
How our Chesterfields are made:
Seat Dimensions
190cm wide x 65cm deep
Seat Cushions
Signature Comfort Blend - Learn more
Studs
No Pins - Learn more
Due to the hand made nature of our items, please allow for a tolerance of +/- 4cm
All our sofas are designed to fit through a standard sized door frame. Learn more by clicking below.
A true softie with a heart of pure gold, it's our pleasure to introduce the most sizeable of the S.W. James – Huxley. Finished in Moons Herringbone wool, a little on the paunchy side, and no stranger to a pint of barley pop, Huxley is always ready to shrug off the day's stresses and relax – and his bountiful proportions invite you to do the very same. His heavyset stature is stuffed with sumptuously soft, squidgy foam – as well as plenty of state-of-the-art, no-sag springs that promise premium comfort.
But while this portly pub-goer is just made for lounging, he's certainly no slacker. Much the opposite, in fact – the S.W. James design team has worked hard to create what we believe to be the most comfortable Chesterfield sofa around, and Huxley has been cleverly engineered to encourage maximum relaxation. It's all down to our signature S.W. James super-sprung base, combined with Huxley's supportive foam formation, and finished with our bespoke touch of three layers of comfort cushions that make for deliciously soft seating. Over one hundred individual springs are hand-stitched into Huxley's frame – as soon as you drop into him, you'll know you're sitting in something truly special. In fact, you'll know you're sitting in the most comfortable Chesterfield you'll find – that's why we're renowned as The Home of the Comfortable Chesterfield.
You've probably seen Huxley dining in many a London steakhouse – no doubt wearing a fairly large bib to protect his stunning, hand-finished exterior. Underneath his napkin-apron, you'll find pure indulgence – classic, Herringbone wool, with widely-spaced buttoning that complements his relaxed, informal proportions, plus a stripped-back, clean finish, without stud detailing. Like all of our Chesterfield designs, Huxley is handmade and exclusive to S.W. James; and whether you're partial to a pint yourself, or you prefer to loosen up with a good old cup of rosy-lee, Huxley promises a relaxing experience you'll delight in again – and again.
Here at S.W. James, infusing luxurious comfort into our Chesterfields and sofas has always been our most important goal. You'll be pleased to know we've succeeded in creating the most comfortable and sumptuous Chesterfields you will find. ...In fact, we're proud to say we are The Home of the Comfortable Chesterfield.
 Our journey to supreme comfort:
The journey hasn't been easy, but the end result is something truly special – you'd be surprised just how far a dream, dedication, and a whole lot of foam and springs can take you! Now, our team takes pride in infusing our unique, special blend of comfort into each and every S.W. James Chesterfield and sofa that leaves our workshop.

All of our S.W. James products are made perfect with our signature blend of soft, squidgy foam cushioning as standard. Over the years, we've taken the time to perfect our exclusive filling to create a plush, ample seat – carefully blended to last a lifetime.
So, how do we infuse the comfort?
1 - Comfort to the core
It's no secret that strength and great character call for strong foundations, and it's the same for Chesterfield sofas. For a first-rate piece of furniture that will seat your family through generations, it's important to know that your Chesterfield is quality to the core.
In addition to a solid oak, kiln-dried frame that's been dowelled and stapled for maximum strength, each one of our Chesterfields is bolstered with a sprung base. Working together with the frame, the sprung base provides supreme comfort as well as support. Elsewhere in the industry, these are often charged as an optional extra, but the S.W. James team doesn't believe in doing things by halves, so you can trust all our sofas boast a customary sprung base.

2 - Plush, padded cushions
As we mentioned above, we've worked alongside our expert design team to create a unique comfort cushion blend that's exclusive to S.W. James. Throughout our process of creating the perfect cushioning, we chose to emphasise two factors – comfort and durability.

The result? Our signature S.W. James comfort blend cushions have three separate layers of comfort. While this careful balance of firmness and flexibility is a closely guarded company secret, we promise our unique combination of springs and multilevel cushioning work together to provide supreme relaxation.
3 - Packing a punch
Sometimes more truly is well… more. At S.W. James, we add a little extra to all of our sofas for maximum quality. From each individual arm, right across the length of the back, each handmade S.W. James Chesterfield and sofa has been imbued with generous amounts of foam for premium comfort and increased support. The finished product isn't just lovely and comfortable to relax on – it's also a much more grand addition to your interiors, with a solid, regal stature.

Need to feel it to believe it? Come and take a seat to experience how comfortable our Chesterfields and sofas really are
We appreciate comfort can subjective, and everyone's take on it is different. That's why we're always happy to invite you to come and try out our handmade Chesterfields and sofas before you buy. Please contact Warren on 0161 359 5462 to arrange your appointment, and be sure to ask after Huxley – our most sizable, sumptuous Chesterfield.
50% Deposit. Pay On Completion 
We are happy to offer the option to put a 50% deposit down on your new S.W. James. We only take a 50% deposit on order so your balance can be paid just before your new S.W. James gets wrapped and ready to be delivered to its new home. To learn more contact Warren. 
0% Finance
0% Finance available is available on most orders - please contact us if your interested in our finance options to get the ball rolling.
Delivered Free Into Your Home
We work with a trusted delivery team. A white glove team will make sure your new S.W. James is nestled perfectly in your home for you.
28 Days To Try It In Your Home
We couldn't imagine why, but if you don't love your new S.W. James when it arrives, you can always return it. We offer a no-hassle return policy. Live with it, lounge on it, if you don't love it, we'll understand.
Your piece is covered for 25 year guarantee
Buying an S.W. James is completely risk-free. We have endeavoured to make our buying process as relaxing as sitting in one of our sofas.

Every S.W. James comes with a 25 year frame guarantee. On completion, every S.W. James goes through a full quality checklist that is managed by our senior production manager. Our guarantee covers loose joints, timber breakage and spring rail breakage.
Your selected swatches:
Click on the swatch images to add and remove swatches.
Alternatively please email your options to info@swjames.com
Handmade in England
See how they are made
The Huxley in Herringbone Wool
Key Features
Made for lounging
Softer Cushioning And A Super Sprung Base Makes This Is One Comfy Chesterfield
Simple Design Features
No studs & wider spaced buttoning make for a cleaner design
Sumptuous
A union of our squidgy foam and springs create an incredibly comfortable sit
Elegant design
Simple modern clean lines
Exclusive to us, our Huxley is a blend of old and new. Widend spacing between the hallmark deep buttoned diamonds, and oversized clean lines provide a more relaxed elegant look. Our wool finish adds to the modern appearance.
Relaxed
Wider button spacing
Simple piping
No stud work and clean piping trim
Built for lounging
Comfort for all the family
We like to think of this as our most comfortable chesterfield. With its large proportions, squidgy signature blend cushions and a sprung base it offers incredible comfort.
Vintage leather
Full of rich texture and character
Signature blend cushions
Soft and perfect for all day lounging
Often Asked
Differences Between Huxley And Monty?
One question we're often asked by customers is;
"What's the difference between Huxley and Monty?"
As you may have noticed these two chesterfields offer many similarities at a glance - but they're not twins. To discover the ins-and-outs of each, take a look at our dedicated article that discusses the primary differneces between the two.