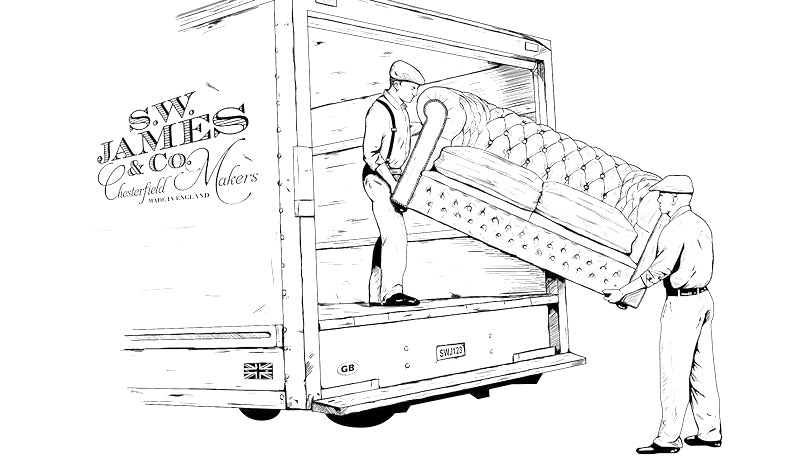 Getting Your S.W. James To You
delivery and shipping
Production Process
From the start
Every S.W. James produced is made from scratch, by hand, in the most time-honoured manner. When you order your new S.W. James via the website, it is specially commissioned just for you, to your requested specifications. As a result, we ask for your patience during the production process. …Your new S.W. James will be worth the wait.
Production time
Product ETA's
Your order takes on average 8 – 10 weeks to create. At busy times this can sometime go to 10-12 weeks. For a precise production time just ask Warren when you are placing your new order. As your new S.W. James is being built, we will keep you regularly updated.
Just can't wait
Express shipping
For the customer that just can't wait to get their hands on a new S.W. James, we created express delivery items. This means on a certain selection of S.W. James models we can finish an item in as little as 16 days and have it on its way to you as soon as it's been finished.
Express items are meticulously handmade in exactly the same manner as every other S.W. James created in our workshop, however on certain items we can shave completion time by holding specific components such as our solid hardwood frames, cushions and leather in stock.
If your interested in express shipping, you can see a collection of items that are ready to ship today here or contact us
Approval & Delivery
Ready, Set, Go!
Before we start the production process we will confirm a few details with you. We will contact you to discuss access for our delivery team and any possible issues we may have getting your new S.W. James into place in your home.
Once your new S.W. James is ready, we will contact you to arrange a delivery date with you.
Almost there
Stand by...
When your item is nearing completion a delivery date will be confirmed with you. This will be confirmed by our furniture delivery team. This will normally be around 10 working days from dispatch date.
In order to keep our delivery prices free to all our customers, we ask you to be a little flexible with us when it comes to the date of delivery. This means we can't give you a precise delivery date until closer to the time of shipping. We are always as flexible as possible, but we need to fit around our logistics team, so if you require a specific day for delivery outside of the dates we can offer, a surcharge of £95 may be applicable.
It's Time
Delivery Day
On the agreed day of delivery, the delivery team will let you know and will text or call 1 hour before they arrive at your home.
Your S.W. James is about to arrive,
Keep an eye out :)
Hard to reach
UK Outer Regions*
Please note for now, deliveries to all Scottish and Cornwall postcodes and lsle of Man, Isle of Wight, Scottish Islands and the Channel Islands are subject to longer lead-times.
If you live within these areas don't hesitate to check with us and we will get you more information.
A brand born to travel
International Shipping
We will always find a way to reach you. If you would like your new S.W. James Chesterfield delivering overseas, click here.
The S.W. James Team
We're here to help
We appreciate ordering your handmade Chesterfield or vintage sofa is a very personal decision, and we know you'll have questions before you decide on an S.W. James of your very own. We're here to help at every step – working closely with you throughout each part of the production process to ensure you're 100% happy with your new S.W. James when it arrives in your home.

We're a passionate team, and we love to talk about our Chesterfields and vintage sofas; so, if you have questions prior to placing your order, or at any point during production, just ask. You'll always talk directly with Warren or the other business founders.

Call Warren and the team today for a friendly chat.
(If the office is closed, please leave a short message – including your name and contact details – and we'll return your call as soon as possible)
0161 359 5462
Or email Warren and the team by clicking here
Visit our new shop -
Come and experience how comfortable our Chesterfields really are! If you would like to visit our new shop, please contact Warren to book an appointment.